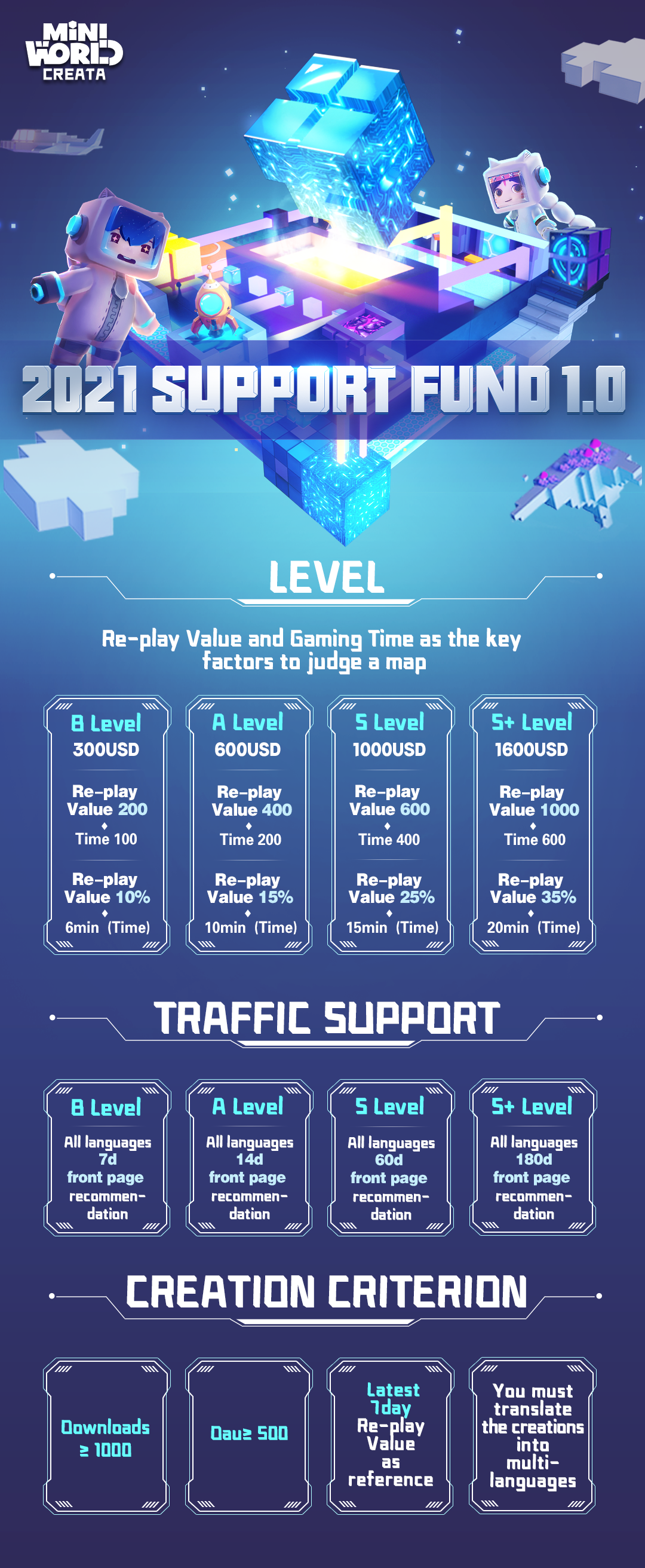 1 What is this 2021 Support Fund 1.0?
The Support policy is offered by Mini World Creata to all devs in the game. We encourage all the devs to create more quality and popular maps, once you make them. We will help you to feature them at all front pages in all language.Plus different level cash bonus will be a reward.
2 How do I join?
"You must be a dev in the game to submit your maps to join.
For English speakers: kindly plz go to discord community
Different language has its own group to join, if you are a gamer from Vietnam. Then you should join the Vietnam group to submit your maps and get the results there.
The group link will be posted here at next week.
For English speakers, plz join this channel
Submit your maps : https://forms.gle/uYWJQ1VZaA9tdZkp8
3 What are the key factors to judge a creation?
Re-play vaule and Gaming time.
Re-play vaule: Basically, Re-play value is a measure of how many people are still playing your game after a certain period of time from their first login date. For example: if 1000 people download your game today and 510 of them are still playing tomorrow, it means you have a Re-play vaule of 51% on day 1. If 4200 people log into the game on the 2nd day, you have a day 2 Re-play vaule of 48%.
Gaming time:
The average time of all gamers that play your map."
4 What are the requirements for a good map?
"a Small game size
b Simple intro of map(even without it, it is easy to understand) plus Good thumbnail
c Fast gaming rhythm
d The high re-play value map is normally combination of two even 3 different gameplay in it
e Easy to play multiplayer(you can socialize in it) 6 with famous IP elements"
5 How do I know the map's performance?
"Every two weeks, we will publish all the maps' performance in the google sheet. Admins will announce them in the group
In the coming future, you can check the map data in your dev center."
6 Can I reach all the levels?
"The answer is yes, if your map can not reach B level. After revise, it reaches A level. You can get A bonus. Later if your maps continue to raise to S+ level, you can still get the extra bonus but only price spread. Example: S+(1600)-A(600)=1000
Notice: each month, you get one time opportunity to have your maps reviewed"
7 How do devs get the money?
"You must be a dev in the game and fill in your bank info at the dev center.
Dev center: https://developers.miniworldgame.com/center/#/login
We use the Tipalti system to transfer the money to your accounts which listed in Dev center"
8 How many maps can I submit?
As many as possible, you are welcome to submit. But plz do remember that do not submit legal maps.
9 Support Time: 6th Aug 2021-10th Jan 2022
10 The map must be created after 1st Aug 2021, if your maps are created before that time. They will not count as legit maps.
11 Tutorials of game
Multi-Languages Tutorials
12 Example of good map
"We have tested Zombie War Z(New version, UID 50396516) in Indonesian area, it attracted more gamers than before. The latest 7 day re-play vaule is more than 30%, the gaming time is around 12 mins.
It is a super S level map and the author find his revenue up around 2 times. Just imagine if you maps get featured at all language first page!
Re-play vaule:32%
Gaming time: 15 mins
Dau:13,000 gamers "
13 Miniwan reserves all the right to explain this event.